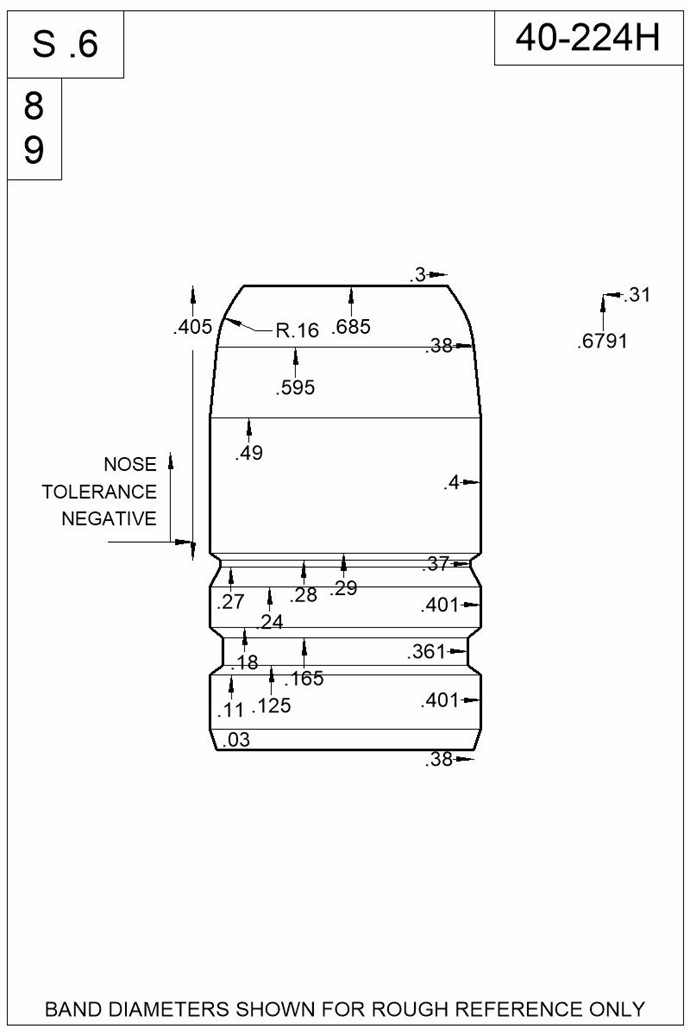 The 40-224H, which is based loosely on Tom's 39-205D bullet for the .41 Long Colt, truncating the nose back to .405" length to as to enlarge the meplat to 0.3", increasing driving band diameters to .402" and the bore-riding nose to 0.400" with nose tolerance negative, so that bullets drop freely into revolver chambers, but are well aligned in transitioning the long cylinder throats into the barrel. I added a 0.03" bevel base to compensate for the nose shortening to bump the weight back up to approximate the 40-220H, and to ease loading. Seating depth is only about 0.3" so that there is minimal intrusion into the powder space.

The .405" nose is too long for .38-40 Colt SAAs or typical 10mm autopistols, but is perfect for Ruger single-actions in the 10mm or .40 S&W. The intent for this particular bullet is to work up sort of a .40 cal. version of the .41 Long Colt at about 700 fps, starting initially with 3 grains of Bullseye in the .40 S&W revolver and 3.5 grains in the 10x25mm, necked down .44 Russian case, and go from there. This way I have a bullet of similar weight to 40-220H with a distinctly different profile so that low velocity loads can be identified from high velocity ones by sight.

When the mold arrives in a few weeks I will be looking for a few beta testers with 10mm revolvers to test sample bullets and to report their results back here. If you have one of the new Ruger 10mm/.40 S&W convertible revolvers, or one of the Charter Arms or Taurus .40 S&W snubbies, PM me if you'd like bullets to test when I have received the mold from Tom and have had time to cast a bunch.
73 de KE4SKY In Home Mix We Trust From the Home of Ed's Red in "Almost Heaven" West Virginia