I'm into my third year of CBA benchrest competition. The summer I started I made a chamber cast of my rifle. .30BR on a Ruger No.1 built by my father. I looked at the casting then just to try to determine what bullet to use after reading time and time again that for accuracy with cast bullets the bullet must fit the throat.
That first season I had some success although never improving on my first match (197-7X) but not ever doing terrible. Last year my season was dismal. In spite of shooting a great 10 shot group in January .611" @ 100 yards, not in a match I shot poorly at nearly every match wondering what was going on. I think it was late in the season last year that I actually measured the chamber casting. My throat not only was gone but had been since before i inherited the rifle.
Through the fall and into the winter I wondered the best course to take. I don't own a lathe but know several people who do. I have another rifle to build when I do get either a lathe or access to one. I have a .308 barrel blank and another Number 1 action, just needs the machining done. However for this current rifle I thought quickest and possibly easiest thing might be to run a reamer in to create a .308x1.75"
Here are some pictures with measurements, the top are diameter the bottom is the throat length.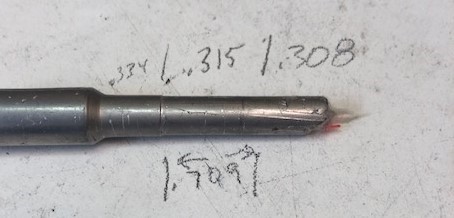 ..
Then yesterday happened. At the match at Spokane Rifle Club I shot better then ever before there. two 5 shot groups were remarkable, a third was good and the other was not bad but not noteworthy. The ten shot groups had nice clusters with some fliers that I think were my fault. On the score targets shot a 49, then next two targets dropped a few, final target was a 50. However no x hits. I have more to say about this and will be submitting an article to TFS.
My bullet is Lyman 311335 sized to .311 and poured with an alloy close to lynotype. They are seated into the case only the depth of the gascheck cut.
If this was your rifle what would you do? Ream the chamber to have a new throat? cut the barrel shorter and start over with a fresh .30BR chamber, or just shoot it and hope for more days like yesterday? I had decided but just had not followed through yet. Now I have different thoughts.If yesterday only proved one thing to me it would be that we know much less than we think we do.