Anybody got one of these? Thoughts?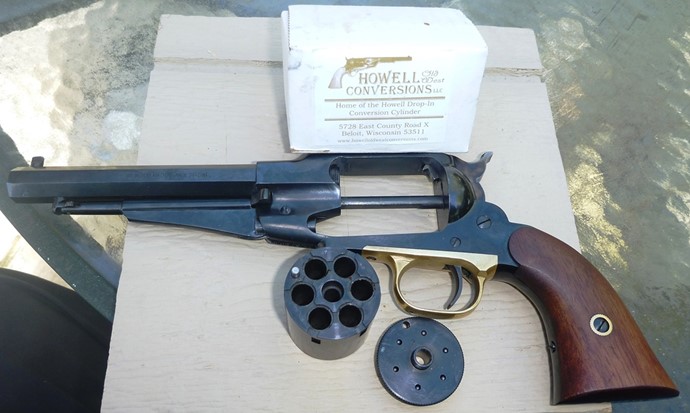 Cap & Ball revolvers can be bought in most US states and shipped mail order direct to you without going through an FFL. Cartridge conversions for the most common cap & ball revolvers are designated by ATF as "parts" and can be similarly shipped direct by US mail in most US states.
Some state laws are more restrictive, so if you live in CA, HI, NY, NJ, IL, etc. you better check first to see if they are legal. Giorgio tells me that in the EU they can only dream of such things. If a "snowbird" in a northeastern US state already had a legal C&B revolver and kept the conversion unit at the winter condo in Florida how is anyone going to know?

A fellow CBA member had one of these and didn't have time too fool with it, but thought it would make an interesting CBA forum entry and maybe later a more comprehensive Fouling Shot article, so we worked a deal. Howell makes these for most reproduction cap & ball revolvers from the Colt 1863 Pocket to the big Colt Walkers and Dragoons. See: https://www.howellarms.com/

The instructions say that as long as you keep the gun in its original configuration and just swap the cartridge cylinder for the cap & ball one, all is "Kosher" and you don't have a "firearm" according to ATF. But once you remove the cap & ball loading lever and modify the frame to install a loading gate and rod ejector to permit that fast cowboy reload, you have then manufactured "a firearm," which is still OK for your personal use, but further transfer then requires completing a Form 4473.

Using the Howell conversion requires unlatching and pivoting the loading lever down, pulling the cylinder pin out, removing the black powder C&B cylinder, then loading and substituting the cartridge conversion cylinder and installing it in the gun. The cylinder must be removed, the backplate pulled off its alignment pin and fired cases poked out with a BIC pen or similar object each time.
So yes, it is a bit slow to reload, but you can shoot either cap & ball or cartridges in the same gun.

Howell states the conversions are made from 4150 steel, but cautions that you should it in steel framed guns only, with factory "Cowboy" loads. The reason is product liability because the reproduction C&B guns are marked for "Black Powder Only" and they don't want to be sued if anyone gets stupid and puts +P or hot handloads in one.

Groove diameter of the Pietta .36 cap & ball barrel is .375" vs. .358" for a .38 Special. To get anything resembling "normal" accuracy you must either use soft lead, hollow-based bullets such as .38 Special factory 148-grain HBWCs (target wadcutters), or a "heeled" bullet with enlarged forepart which fits the cylinder throats and a reduced rear shank to fit into the cartridge case, like .38 Long Colts of the black powder era.
If you want to shoot factory ammo, wadcutter loads are typically loaded to about 13,000 psi, max., which is fine in the cap & ball conversions. The .38 Long Colt 150-grain LRN ammo is loaded to similar velocity and pressure and also has a deep hollow base like HBWC wadcutters.

The traditional alternative is to buy a mold for a "heeled" 150-grain .38 Long Colt bullet, and cast them of soft alloy like 1 to 40 tin-lead. The bullet is hand-started into the case with the fingers or by pushing its nose against a table edge. Then the case mouth is crimped onto the bullet heel in a manner similar to .22 LR ammo. This cannot be done with standard loading dies, but you can improvise with blasting cap or coax cable crimpers, or buy a collet type crimp die made just for the purpose.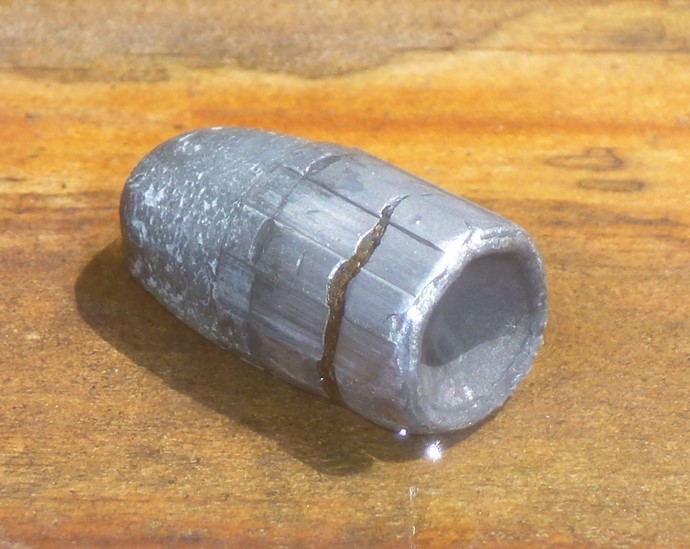 I fired the Pietta .36 Remington at 25 yards with Western Super Match wadcutters from the 1960s as well as WW2-era Rem-UMC "Police Service" 158-grain lead round nose and 200-grain lead RN loads. Best grouping was with the wadcutters. Point of impact was about 6 inches low at 25 yards. However, it is MUCH easier to cut down a front sight to correct zero than to install a higher one.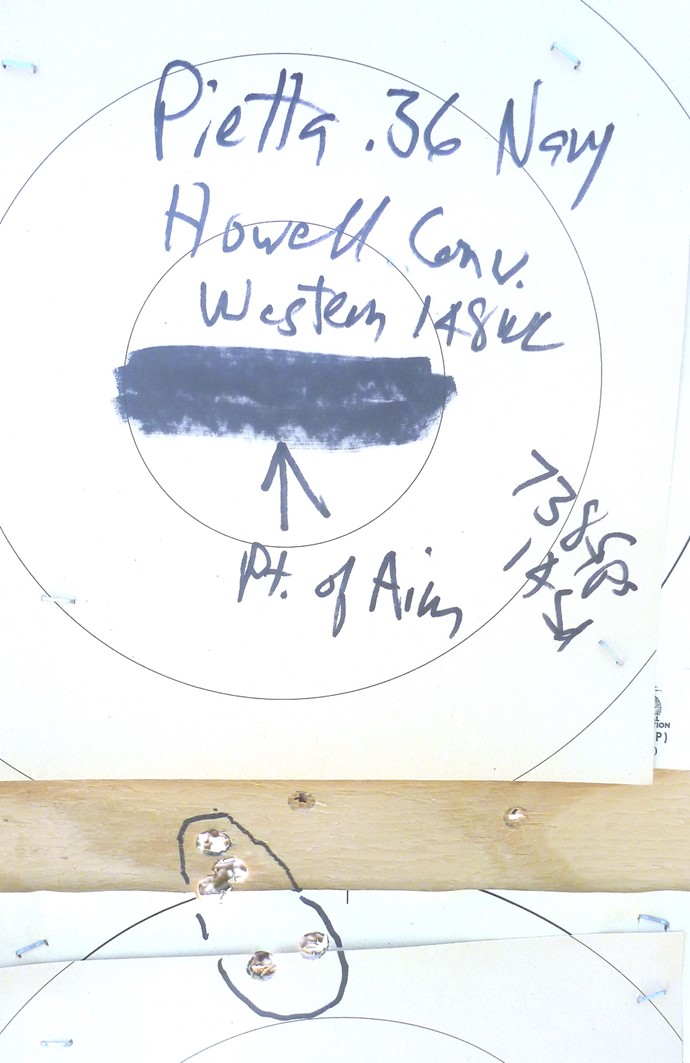 The 158-grain and 200-grain LRN service loads had bullets with a shallow cup-base. Examples recovered by shooting into water jugs indicated they upset to take the rifling OK. But accuracy was poor and group size double that obtained with the wadcutters, with the heavier bullets tipping from the slow "round-ball" twist barrel. Extraction of fired cases from the 200-grain Super Police loads was difficult using the BIC, which is a clue that pressure is a bit on the high side, so that I don't recommend them in the conversion cylinder.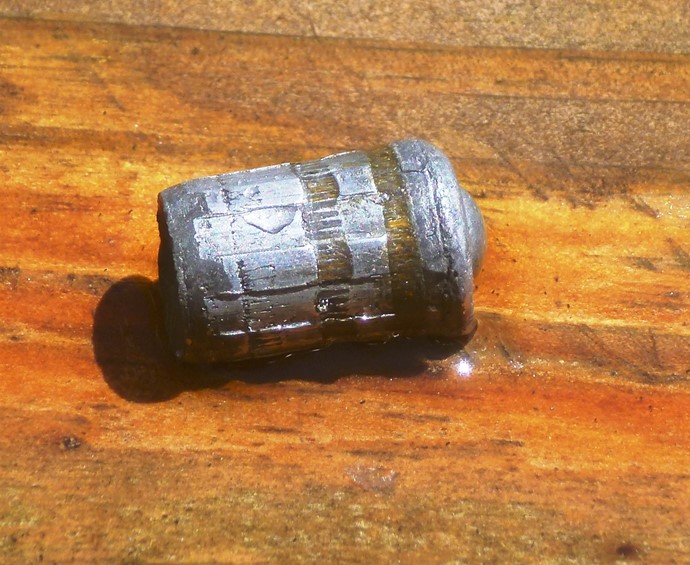 While low with wadcutters at 25 yards, the group was fairly well centered for right and left. To correct zero of fixed sight guns use the expression: X = RE/D where "X" is the amount of sight correction required, "R" is the sight radius. "E" is the error in Point of Impact relative to point of aim and "D" is the target distance, ALL DIMENSIONS IN INCHES!!

I cut down the front sight so it measured exactly one inch from the bottom flat of the octagon barrel to the top of the front sight removing about 0.055". Next range trip I'll try the wadcutters again to confirm zero, in case I need to tweak the front sight some more, I plan also to shoot some WW2-era .38 Long Colt 150-grain LRN loads which have a deep hollow base like the wadcutter.

The 1960s Western Super Match wadcutters gave 738 fps from the 6-1/2 inch barrel, penetrated 30 inches of water jugs and grouped about 2-1/2 inches at 25 yards.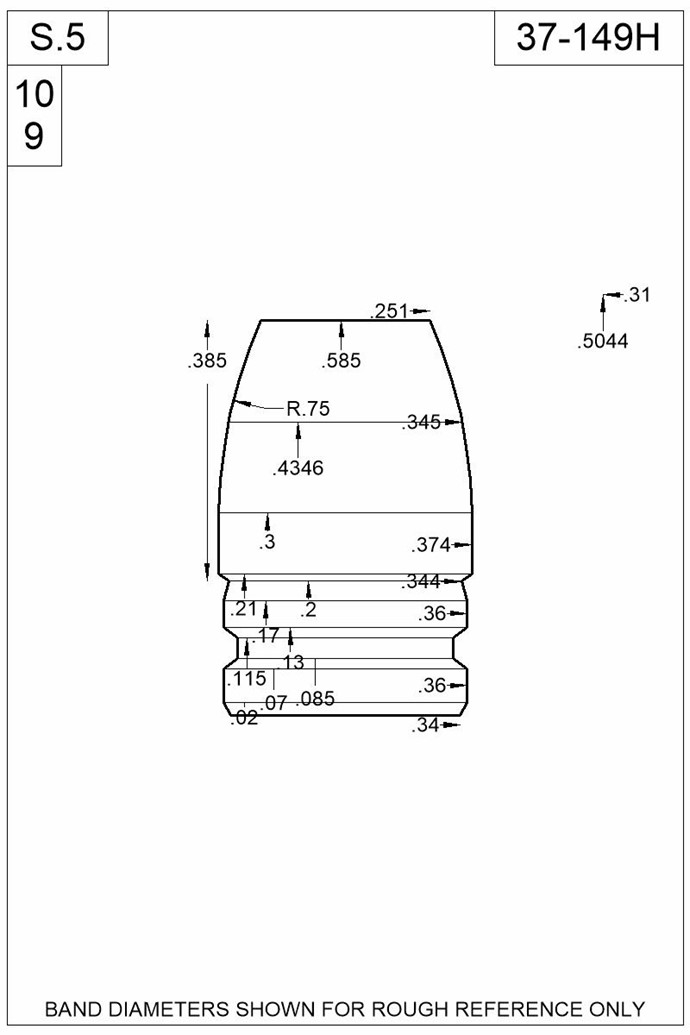 I've ordered a heeled mold from Tom at Accurate Molds, and a collet, heel-crimp die from Old West. A charge of 3 grains of Bullseye in .38 Long Colt brass or 3.5 grains in .38 Special brass should closely approximate the velocity and pressure of factory loads.
Stay tuned for updates. In the meantime I'd love to hear from anyone using one of these cartridge conversions, or who loads traditional "heeled" bullets in the .38 Long Colt or .38 Special for them or the old Colt 1892 DAs.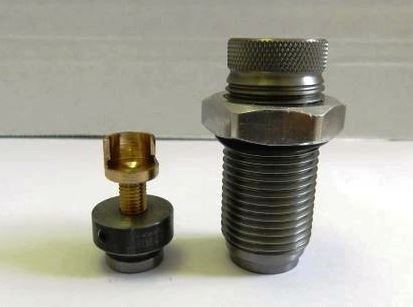 73 de KE4SKY In Home Mix We Trust From the Home of Ed's Red in "Almost Heaven" West Virginia