Just a little report from my range trip today.
This spring, I ordered some moulds from Arsenal. As expected, I had to wait a bit for the moulds to arrive- busy days, as you know.
One of the moulds was the 311-176, PB. This is a bullet in the Ranch Dog- style. I chose the version with the tumble lube grooves, since I liked the beefy base band. Arsenal moulds allow you to specify the size of bullet, and I asked for .310, since I planned to powder coat them. The coating adds about 0,002in of size.
The nose shape of this bullet lends itself well to coating. It is not a bore-rider, but has a gently sloping conical nose. The generous meplat is designed with hunting in mind. My use will be primarily recreational shooting.
Most of my cast bullet shooting is with .30- cal bolt guns, in the 16-1800fps range. One of the merits of polymer coating I appreciate the most, is the fact that I can shoot coated bullets with no gas check in this performance window. It cuts down on the work load.
Today, I shot some of these bullets in my Schultz & Larsen 30-06 hunting rifle. It is equipped with a nice Swaro 2.2-9x42 scope, and a suppressor. Range pick-up brass, reloaded multiple times. Necks expanded with the ingenious NOE expander plugs, that fit the Lee universal flare die. Seated COL to minimal jump. 20 grs Vihtavouri N110, which tends to work well with powder coated PB bullets in this weight range.
The bullets were the survivors of the mould break-in session, and some (very) minor flaws were present in most bullets.
I shot 3 groups of 5 shots at 100m. Average group size 1MOA. I haven't chronoed this load, but it should be around 1700fps.
It might not break neither accuracy nor velocity records. But I'm happy with my initial results with this PB bullet. They come from a very productive 4-cavity mould, and bullet preparation is quite straight forward.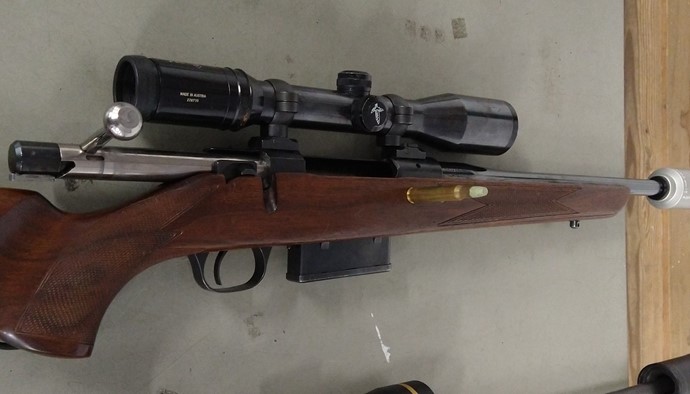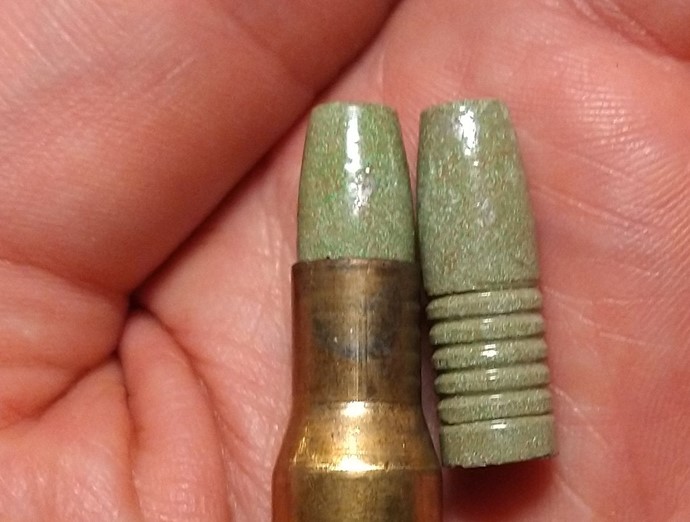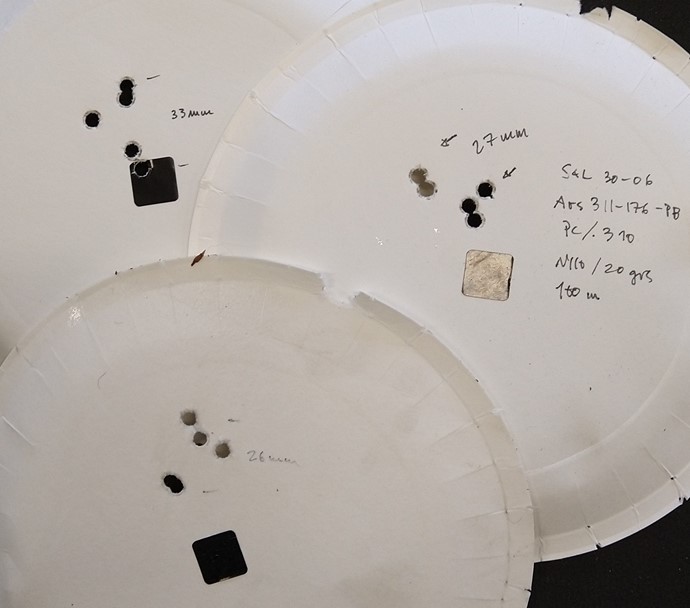 PS The black patch I use for aiming square is unsuitable for this scope; the reticle obscures the square.
Note to self: get a better target
Edit: spell check