It is common for fixed-sight 2" snubbies not to shoot precisely to point of aim. After all they are "belly guns" intended more for instinctive pointing than precision aimed fire. However, most users would like them to shoot mostly where they point in relation to the sights.
When barrels are turned into revolver frames at the factory, the assemblers are more concerned that they don't come loose, therefore it is common that barrels may be over-tightened, sometimes causing "thread choke" or collapsing of the bore adjacent the root of the barrel thread, or "off-shooters" in which a barrel snugged too much shoots to the right, as its front sight can be seen to lean very slightly towards 1130, rather than being absolutely vertical.
When cop guns are tested at the factory, they are commonly shot off sandbags at 15 yards or so, aiming at a 3" circle. As long as 4 out of 5 or 6 shots hits either on or in the circle, it passes. If fewer than 4 shots were cutting or in the circle, the barrel would be turned in the frame to correct windage by striking the barrel lug with a lead babbitt hammer. A skilled workman at S&W or Ruger could "eyeball" the lean of the front sight, take one calibrated WHACK~! on the barrel lug with his babbit hammer and send the gun back to the range for a re-shoot. A second whack with the babbit bar was very seldom needed if the guy was experienced at this job, because he was paid piecework, not by the hour!
A recent purchase of mine, an S&W Model 36 (no dash) of 1960s manufacture shot about 4" right at 7 yards with factory wadcutters. If I just point-shot the gun at 50 feet, ignoring the sights, but using only the weapon silhouette point method, I could keep them all in the K5. But I would like to be able to head shoot a rabbit or grouse if an opportunity presented itself, so the sights needed to be closer!
This revolver was a "pinned" barrel model. I didn't wish to remove the barrel pin and chance loosening the barrel and maybe having to take it to a gunsmith to have properly reset. SO I relied on my Ruger training and experience to WHACK~! the barrel just enough to back it off solidly against the barrel pin, hoping that the slight rotation possible would position the front sight closer to 12:00 dead-center and and point of impact would be "close enough" for my intended concealed carry and woods walking use.
I used a small 4 oz. brass hammer from Brownell's, resting the revolver barrel on a lead block, and decided that several well-calibrated, carefully executed smaller whacks with my small hammer were safer than attempting one mighty blow with a BFH, given the small target afforded by the Model 36's tiny barrel lug. After about six careful blows my eyeball inspection indicated the front sight was now almost perfectly vertical, and that the cylinder opened and closed easily and the center pin locked up as it should.
A quick trip to the range revealed that point of impact was now close enough. I just saved myself a 60-mile drive to Northern Virginia Gunworks and a minimum gunsmith labor charge.
Now to give my Model 32-1 the same treatment! Same result, no pictures needed, Instant replay!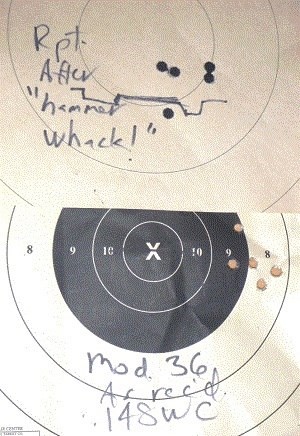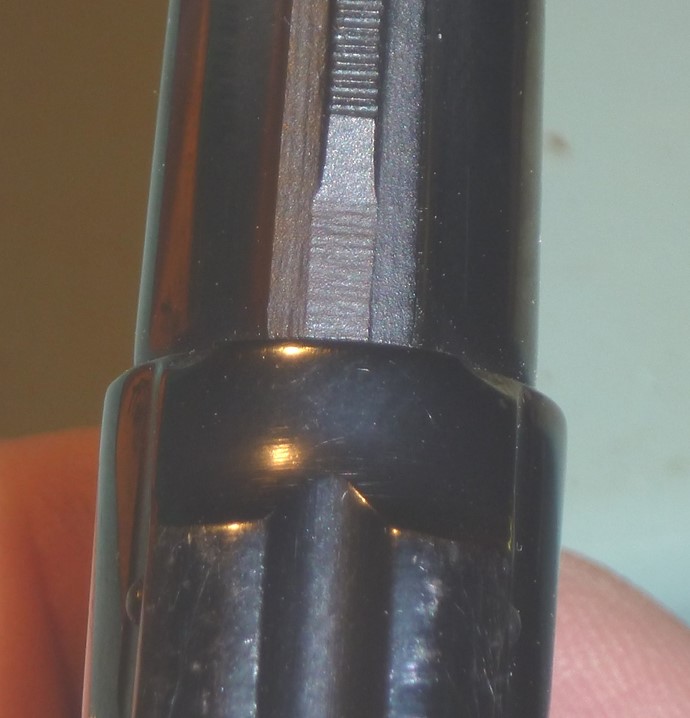 73 de KE4SKY In Home Mix We Trust From the Home of Ed's Red in "Almost Heaven" West Virginia