Ed Harris 45 Cal Cast Bullets; 45 Colt (Ruger Level Loads)
Ed sent along a request to test his 45 Colt "Ruger "level loads consisting of 7.5 gr Bullseye under the 45-240H1, 45-262H and 7 gr under the 45-290H cast bullets. None of the three loads generated a MAP higher than the "classic" 45 Colt load of 8,5 gr Unique under a 250 gr 454190 RNFP cast bullet. That "classic" load is shot by most everyone in Colt SAAs (Gen 2+) and the clones of today. I have shot thousands of that load myself with the 454190 and the 45-255-KT through my Uberti clone SAAs without a single hitch.
This is also the last of Ed's loads to test. Here is a picture of the test firearm; TC Contender with a 10" octagon 45 Colt barrel. I've laid the 455 Webley, 45 Schofield and 45 Colt cases on it so you can see the relation of the strain gauge to each cartridge. The gauge is centered as per SAAMI specs for the 45 Colt cartridge.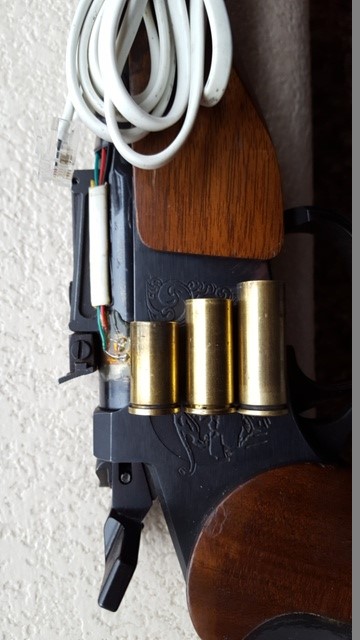 Test results:
45 Colt Ruger Level w/45-240H1; Excellent uniform internal and external ballistics with the 7.5 gr Bullseye load. Note the M35P velocity measurements were within 1 – 2 fps of the M43s velocity measurement for the entire ten shot test. The ES (24/25 fps) and SD (7/8 fps) of the velocity measurements is excellent. The MAP is 16,500 psi(M43) with excellent ES and SD measurements also. Accuracy is about the best I can do anymore with iron sights. Velocity in a revolver should be 900 – 950 fps +/-. Overall an excellent load.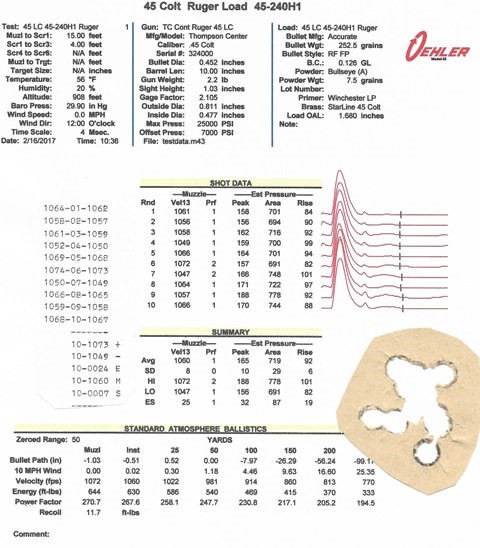 Concealment is not cover.........