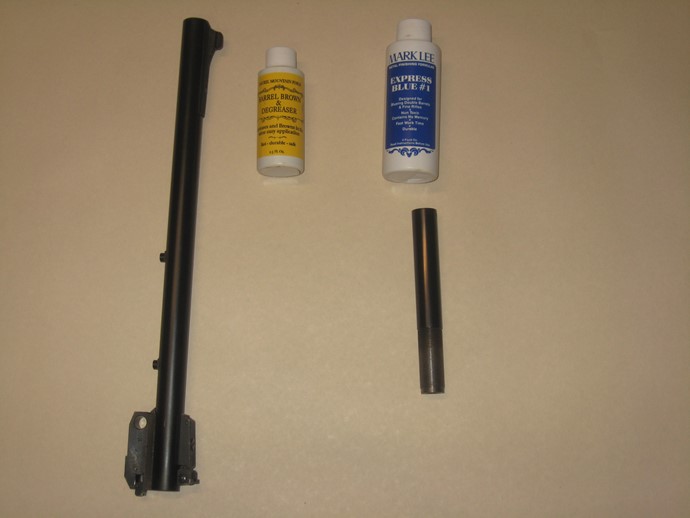 Some of you no doubt do rust bluing or browning or have in the past at one time or another and already know this but thought that I would post this anyway.
I won't go into the detailed process but for those who don't know, it is a process where by one can either get a traditional brown finish on metal parts, such as when building muzzle loaders or bluing, when that kind of finish is desired. Similar chemicals are use for both, just a different procedure. Both rust browning and bluing require either a humidify and temperature controlled sweat box to create rust or heating of the part before application to create the rust. And then finally boiling in a tank of water to turn the rust to blue..
I have used Laurel Mountain Forge rust brown for many years when building traditional ML's, But when using it to blue, the parts still need to be finally boiled in a water tank large enough to accommodate the parts in order to turn the brown to blue.
The Mark Lee Express Blue #1 process is a little shorter but still requires boiling in a water tank after each application. Which is of course large enough to accommodate the barrel or what ever. And time consuming.
This is where the short cut comes in. When using either MLF browning solution or Mark Lee's Express Blue #l, the water tank and boiling can be eliminated.
When using both MLF and Mark Lee's Express Blue #1, Just get sections of PVC pipe that are long enough and large enough to accommodate the parts that are being rust blued. Glue a cap on one end, hang the parts inside the pipe and fill with boiling water. Let stand for 10-15 minutes, withdrawn them and lightly wipe all the water off. The rest of the water will evaporate because the part is now heated.