Today I had one of those "I wonder" moments on the reloading bench. I got to wondering if the Eras Gone Kerr 44 bullet would work in the 45 ACP case for the Howell ROA Conversion Cylinder. Before I allowed myself to study all the "what's the point" arguments, I measured the base of the bullet to see what the seating depth would be on top of black powder. Basically I filled the case to within .350" with FFFG black powder, seated a .020" wax milk container cookie on top, and seated a cast (.452) Kerr bullet into the case with a press fit. The Kerr bullet had been previously lubricated on the bottom half with homemade Confederate Lube. I applied a standard 45 ACP taper crimp onto the bullet and there it was - all done. Now granted, the whopping 14 grains of FFFG black powder won't set any speed records, but heck, it loads up OK and should be a nice pleasant load to shoot through the ROA/Conversion Cylinder. The overall cartridge length comes out to 1.2" total.
Before I knew it, I had 6 loaded up and ready for a test. I then began to wonder the "why" of the matter and truthfully admit that smokeless is the way to roll with the 45 ACP cartridge. But heck, it's nice to know that the Eras Gone Kerr bullet can work in this cartridge/cylinder version in a pinch.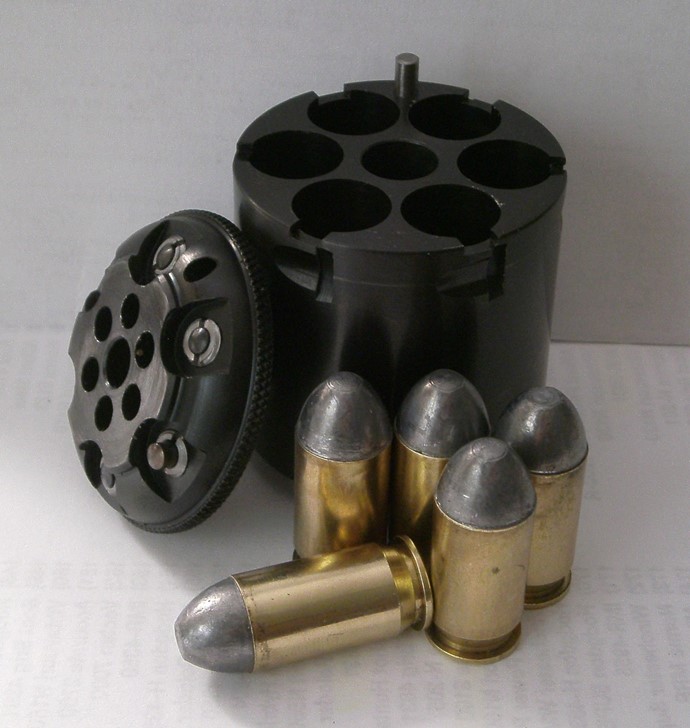 With rifle in hand, I confidently go forth into the darkness.