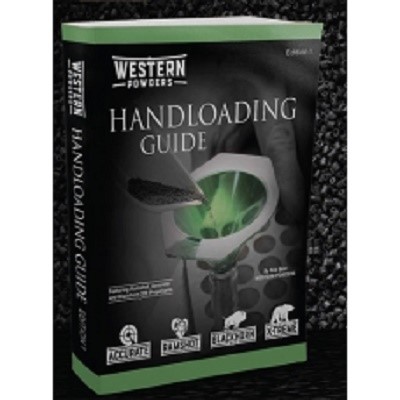 Today I received the new Western Powders reloading manual. I ordered it because it has the first .22 TCM data published in a manual, but also because it is supposed to feature some harder to find data. Having read through the manual a few things really stand out. First there are many wildcat calibers listed under the reloading data. Many of these are pretty obscure and certainly not found in other manuals. Some of these are .270 REN, .357/44 Bain & Davis, .17 CCM, .19-223, .20 VarTarg, 6mm XC, .550 Magnum and others

Unlike other powder manufacturer manuals, I found it odd that they did not have a section describing their powders. They do go into some detail about the suggested powders under each caliber though. The manual does not feature a lot of cast bullet loads, which was a small disappointment. However they make up for that just by the shear volume of calibers that are covered. It is pretty similar to other manuals in that they cover the usual reloading basics, with a few short articles on subjects such as bore slugging, powder position & pressure, finding twist rate and more.
I think it will make a fine addition to any reloading manual library. It has just been a long time coming since the original Accurate manual.
David Reiss - NRA Life Member & PSC Range Member Retired Police Firearms Instructor/Armorer
-Services: Wars Fought, Uprisings Quelled, Bars Emptied, Revolutions Started, Tigers Tamed, Assassinations Plotted, Women Seduced, Governments Run, Gun Appraisals, Lost Treasure Found.
- Also deal in: Land, Banjos, Nails, Firearms, Manure, Fly Swatters, Used Cars, Whisky, Racing Forms, Rare Antiquities, Lead, Used Keyboard Keys, Good Dogs, Pith Helmets & Zulu Headdresses. .