Ed Harris 45 Cal Cast bullets; 45 Schofield
This test report is short and very sweet. I only tested one bullet in the 45 Schofield case; the 45-240-H1. It was loaded over 5 gr Bullseye. A 240 gr cast over 5 gr of Bullseye is a classic load in the 44 SPL and I expected no less than excellent performance with that weight bullet out of the similar length 45 Schofield case. I was not disappointed.
I already had 12 cases from a previous test with the rims turned down to fit the Contender 45 Colt Chamber so I loaded all 12 cases. The M43 recorded the results of the first 10 shots while the M35P recorded the velocities of all 12. Note the very close velocities obtained; the M35P screens being in front of the M43s recorded within a couple fps the same velocity but just a couple fps faster as should have been. Both machines recorded the exact same ES and SDs! The MAP psi was a very mild 12,200 psi(M43) with only a 1,700 psi ES. For that low of a MAP the Time/pressure traces are very uniform…..a good sign indeed! The velocity of 843 fps from the 10" Contender will probably be 750 – 800 fps from a 4 – 6" barreled revolver. The group is excellent for me anyway and I still got a tudge of vertical stringing due to the glare.
Test results: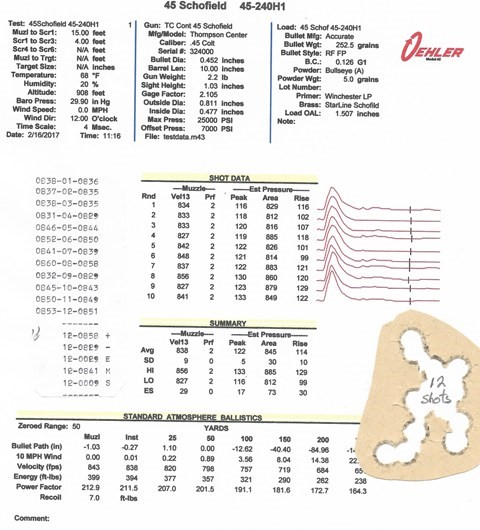 Doubt you'd go wrong with that load in any 45 Schofield revolver and it should also be excellent in any 45 Colt. Actually a 45 ACP cylinder reamed out to 45 Schofield might just be an excellent idea……..
LMG
Concealment is not cover.........