Ed Harris 45 Cal Cast bullets: 45 Colt
A three of Ed's bullets (45-240H1, 45-262H & 45-290H) were all tested in "standard" level 45 Colt loads intended for the Colt and clones SAAs consisting of 6 gr Alliant Bullseye. Cases were Starline with Winchester WLP primers being used. The SAAMI MAP for the 45 Colt, in deference to the older and "weaker" design of the older revolvers, is 14,000 psi (transducer/strain).
Test results:
45 Colt w/45-240H1; Very good load giving excellent internally uniform ballistics with a MAP of 12,900 psi (M43) and a velocity of 930 fps out of the 10" Contender barrel this load should prove to be an excellent one in revolvers giving velocities in the 800 fps range. Accuracy was excellent and I was still plagued by glare on the front sight with this load as the 2 low shots were called low. On the next three tests the sun had shifted enough I was able to shade the front sight. Accuracy noticeably improved with more uniform groups.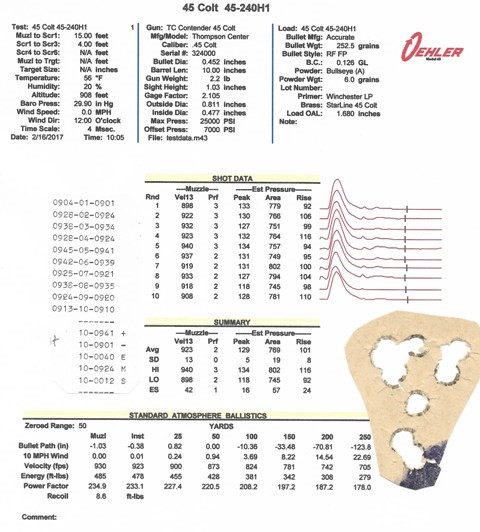 The 45 Colt Starline cases used in this test were once fired and had not been trimmed. How important is trimming is an often asked question. How much does seating depth affect the psi is another. This next test is the exact same load as the above with the exception the cases were trimmed .006 back to the Lyman "trim to Length" of 1.275". Conducting one test of each is by no means conclusive as a test of at least 5 strings each would be needed for any conclusive answer to those two questions. Comparing the two tests here we see the trimmed case test gave pretty much the same accuracy, a lower velocity, a slightly better ES and SD of velocity, a slightly higher MAP with a greater psi ES and SD as the same load with the untrimmed cases. Hardly enough difference if any to draw any conclusion.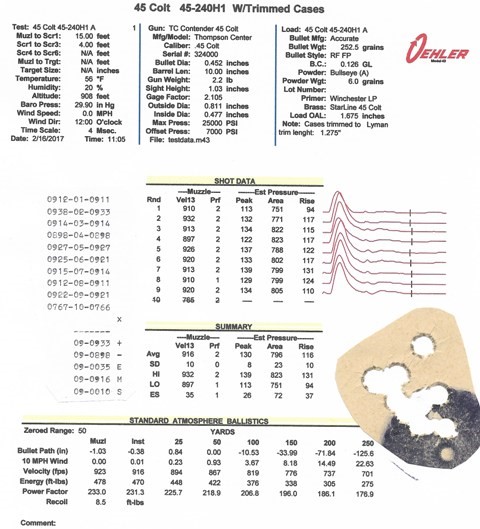 Concealment is not cover.........