I have been wanting to add this book to my library for years, but most copies I have found have either been in poor condition or in good condition, but priced about $100 or more.

However I was able to snatch up this book on eBay for under $50. I was very pleased and excited for it's arrival. I would have never guessed at what a surprise awaited me.

When I opened the package I found the book in great condition, but it held a surprise. Inside there was an envelope on NRA stationary and a post mark from Salmon, Idaho dated 1957, one year before I was born. It contained a letter in pristine condition from Elmer Keith to a gentleman in Kansas. The letter discussed loading for the .44 mag. It includes Elmer's signature and many typos and misspellings. This was no surprise as I have often heard the stories of Keith's bad spelling.
I know many of you may have letter similar to this one in your possession and they are not uncommon, but to me it is very special and I will always cherish it.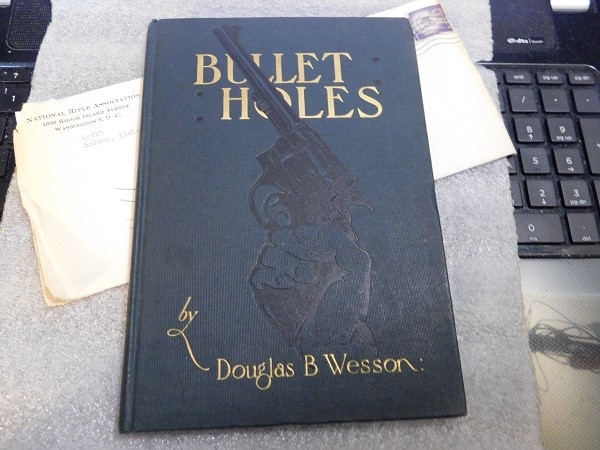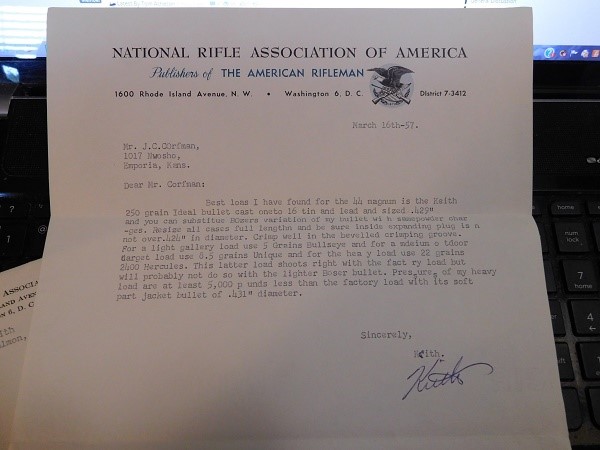 David Reiss - NRA Life Member & PSC Range Member Retired Police Firearms Instructor/Armorer
-Services: Wars Fought, Uprisings Quelled, Bars Emptied, Revolutions Started, Tigers Tamed, Assassinations Plotted, Women Seduced, Governments Run, Gun Appraisals, Lost Treasure Found.
- Also deal in: Land, Banjos, Nails, Firearms, Manure, Fly Swatters, Used Cars, Whisky, Racing Forms, Rare Antiquities, Lead, Used Keyboard Keys, Good Dogs, Pith Helmets & Zulu Headdresses. .