I have talked about Winchester's High Velocity loads before but this time I wanted to try and be a bit clear on handloading options and pressures.

It is always hard to start a subject about the 44-40 without explaining a tad bit of history about it first. Winchester first offered the new High Velocity loads in 1903 specifically for the "44-40 Model 1892' Special" and cataloged at 1,500fps. Also marked on the label are the words High Velocity Low Pressure. I certainly don't know exactly what "low pressures" they are referring. Also noted on the side label is that they should not be used in the Winchester 73' or revolvers thus the impression of "low pressures" must not be very low...it gets confusing sometimes. By 1910 Winchester offered the faster 1,570fps loads but was also noted that these loads had very high pressures up to 22,000cup to be exact. All of the factory H.V. loads seam to have used the jacketed soft point "patched" bullets. It is also hard to determined which powders were used in these factory loads.

To try and help visualize some powder/pressure differences we can look at some of the old powder can load data printed on the labels on the back of the cans. Also, we can refer to early handloading data available during the late 1930's (1937) when the H.V. loads were winding down before basically being neutered by the 1960's.
Sharpshooter powder was used at some point and on the back label of the powder cans, it shows the following;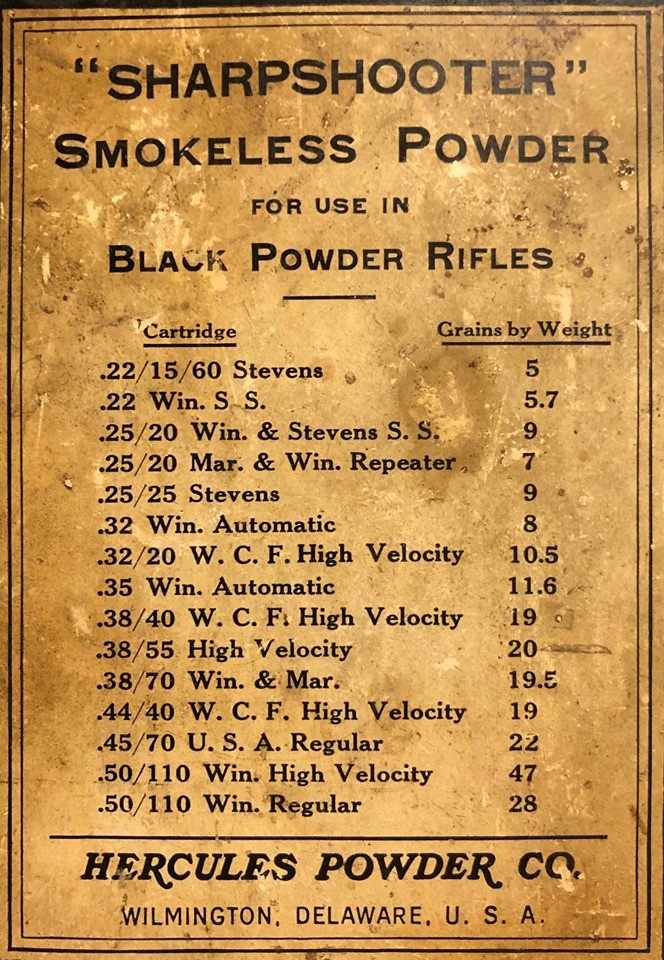 Sharpe lists the following in his 1937 manual;
17.3gr/1,505fps/14,000cup
19.6gr/1,680fps/20,000cup
He also claims this data is provided by Hercules. It is possible that Winchester used Sharpshooter powder and the early "Low Pressure" H.V. loads only produced about 14,000cup.

Anyhow...other loads using SR80 and IMR-1204 were also high velocities but no pressures noted and more than likely are the higher pressure 1,570fps load. IMR-1204 shows an 1,830fps load!!!

IMR-4227 was a direct replacement for IMR-1204. Velocities using 29gr of 4227 shows 1,890fps but again, no pressures noted.

Pressures are noted for the following powders in Sharpe's manual and also notes they are backed by their manufactures. 2400, Unique and Lightning.
2400/23.5/1,700/14,000...noting another 14,000cup pressure
2400/25.4/1,870/20,000...higher velocity than factory load but lower pressure than factory loads as well.
2400/27.5/2,100/33,000...way beyond what I want to shoot.

Unique/11/1,520/16,000cup
Lightning/24.2/1,555/14,000
Lightning/26.7/1,720/20,000
NOTE the above loads may be using OLD POWDER formulas and I would NEVER use such charges with today's powders. My results are much different!!!!!!
So with these old powders. one could replicate factory 1,500fps and even some 1,570fps loads with 14,000cup to 16,000cup pressures.
If one wants to replicate these velocities, Lyman's 49th handloading manual lists such a load for Strong Action rifles. Lyman claims that 20gr of 2400 with a Speer 200gr SJHP will reach 1,638fps @ 19,000cup.
I tested such load and got 1,672fps and 15,618psi which should be close to 19,500cup.


I also used IMR-4227. Lyman's Speer 200gr SJHP, 20gr 19,600cup powder charge fell short of the 1,500fps velocity but my loads tested much different. My 4227/20.5/1,297/12,200 fell short on both pressure and velocity.
My test loads using IMR-4227 and a 240gr Speer DCHC...not listed in manuals...is as follows;
4227/22gr/240grDCHP/1,400/20,547psi...well in excess of 22,000cup. Thus I decided to load up a similar charge but using the lighter bullet.

NOT TESTED in the Pressuretrace II but used in the Marlin 1894CB @ 50 yards
4227/23gr/200grSpeerSJHP/1,519fps/est. 18,000psi/22,000cup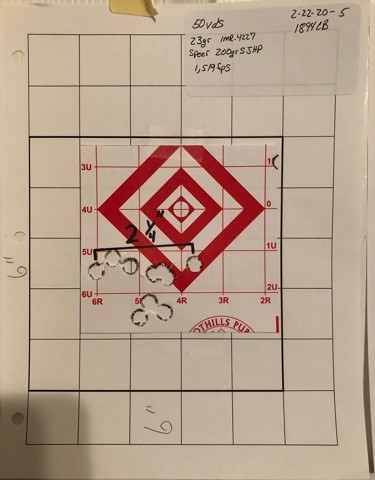 I also used the smaller diameter Winchester JSP @ 50 yards in the Marlin 1894CB
4227/24gr/200grWinJSP/1,590fps/est. 18,000psi/22,000cup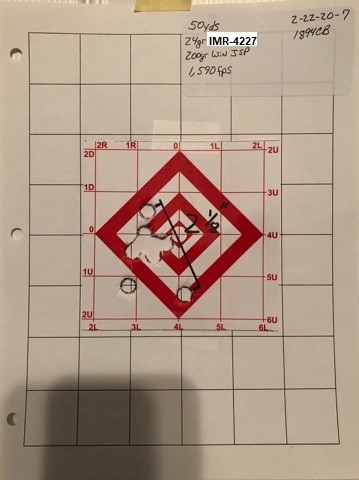 These certainly are not "low pressure" high velocity loads but should still be plenty safe for strong action rifles. They should create a flatter trajectory at yardage and retain more energy than slower loads.

I guess it is possible that Winchester could have used IMR-4227 in thier 1910 and later era H.V. loads....who knows?