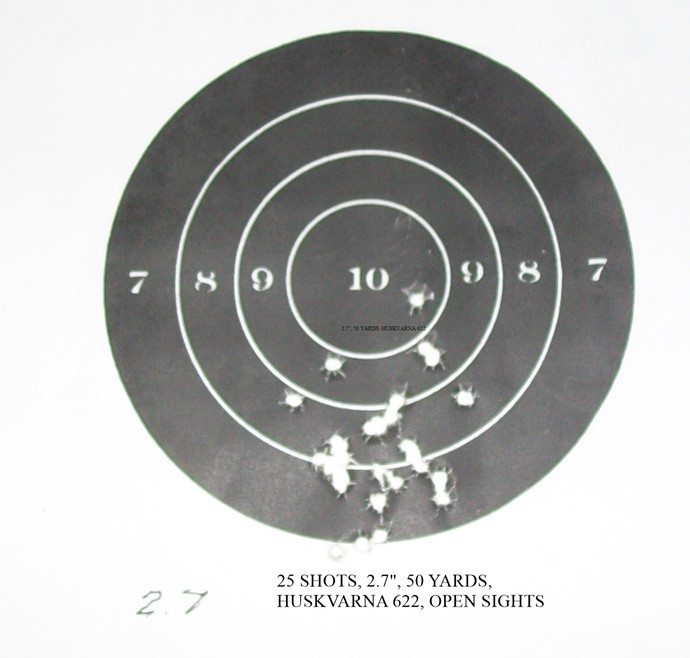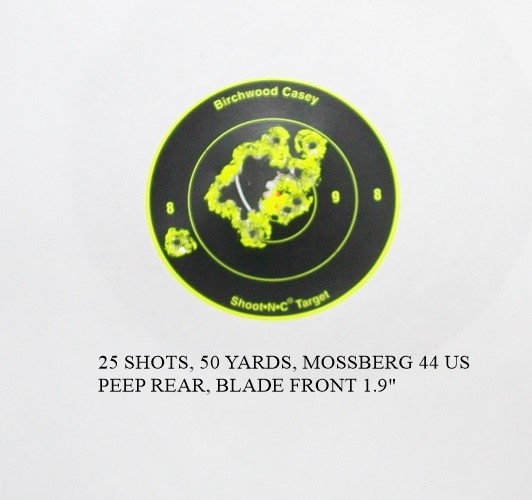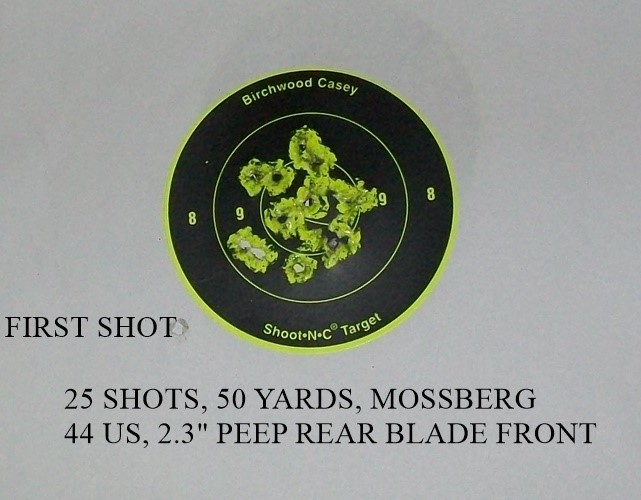 After testing a 22-250 barrel in the "BARREL PRESSURE MANAGER" experiment, we agreed to move to 22 rimfire. Not wanting to drill holes in my BSA 12/15 Martini, I bought a Huskvarna 622 with open sights. (The Martini, 50-yard, 5-shot, scope, 180 groups averaged .472".)
All shot nicely with GECO Semi Auto ammunition, $23per brick, used in all testing unless noted.
This rifle was too nice to drill; next I bought a Remington 513T, made in 1951, with Redfield Irons. 57 5-shot 50-yard iron sight groups averaged .796", 75 with Weaver T36 averaged .499.
I couldn't bear to drill this barrel, so I bought a Mossberg 44 US PROPERTY made in 1944.
With peep rear and blade front:
The Mossberg has no scope mount. With the correct aperture front sight, 66 5-shot 50-yard iron-sight targets averaged .838"; the last 50 groups averaged .770".
Too good to drill.
Next, a Winchester 69A-chronographed 2 ammunitions, minor accuracy testing, to Mike for drilling. I gotta stop buying rifles.
Lessons Learned:
I thought that barrel quality had vastly improved in the past ?60 years. I was wrong, These, and other, old guns shoot as well/accurately as new guns.
22RF is more accurate, easier, than cast bullets.
I thought that 22RF guns are sensitive to ammo type, everybody says so. Wrong, GECO works great in almost all guns so far.
I learned more about bench shooting, in the last year, with 22RF, than I learned in my first 58 years of bench shooting.