Many of you know that my oldest son is the Chief Supervising U.S. Marshal at the Ft. Smith, Ar. office. My wife and I planned to spend some time with him and his family on our way back from the national tournament. However his job caused him to work on the day we planned to spend with him, but he found a wonderful way for us to spend some extra time with him.
The U.S. Marshal museum is being built in Ft. Smith, in fact the building is complete, but the exhibits have not been built. At this time the wing of honor is complete and their is a temporary 9-11 exhibit, but over 70% of the building is incomplete. But here is where the surprise comes in. You see my son is on the board of directors of the museum and he arranged in just a day's time a private behind the scene tour with the museum's curator for my wife and I.

Wow, were we surprised!

Not only did he walk us through the building and explain where the exhibits would be and what they would contain, but he took us into the area of the museum where the exhibits and artifacts are prepared and stored. With every item he related the story behind it. There were badges and other items from the Marshals past dating back over 200 years. It was beyond belief.

Then there were the guns, like old Colt SAs, Winchester and Marlin lever actions, early Browning semi-auto handguns, numerous shotguns to Ruger Security Sixes carried by the Marshals up to the issue of Glocks. There were guns used by infamous outlaws, some used to kill US Marshals which will never be included in any exhibit.

The highlight for me was five firearms, a badge and a pocket watch he had laid out on a table. These included a Spencer, a Winchester 92 in .38 WCF, a Colt SA Army also in .38-40, another SA Army in .45 LC and a Colt 1903. All of these were owned and used by famous US Marshal, Bass Reeves. Not only did I get to look at these, but I actually got to handle them. What a treat to place in my hands the same firearms that were once handled and used by Bass Reeves. I am still in disbelief, I have to look at the photos to convince myself it happened.

Here I will share a few of the many photos taken that day, 09/13/2021.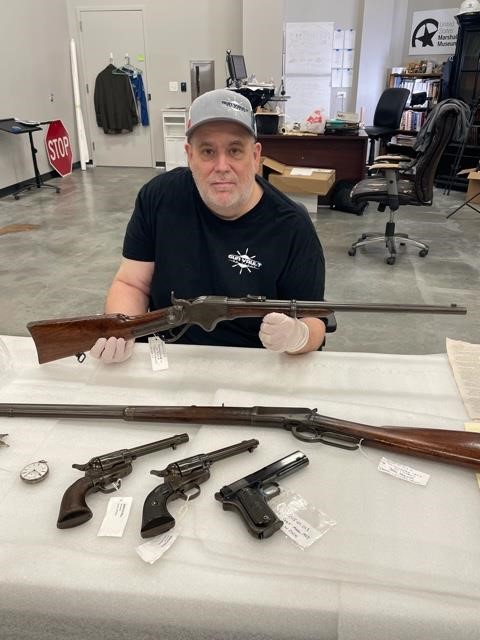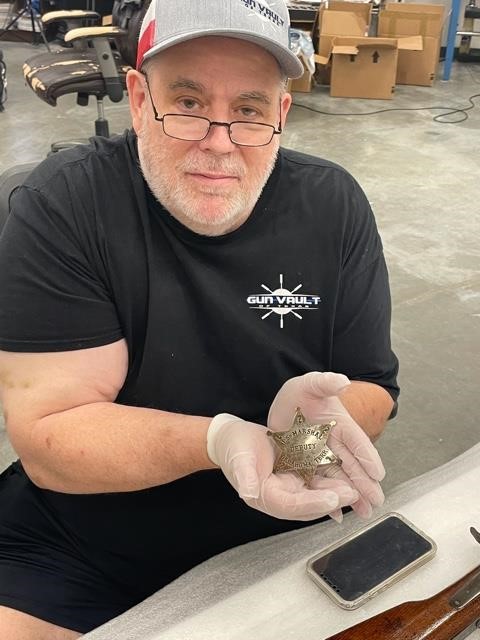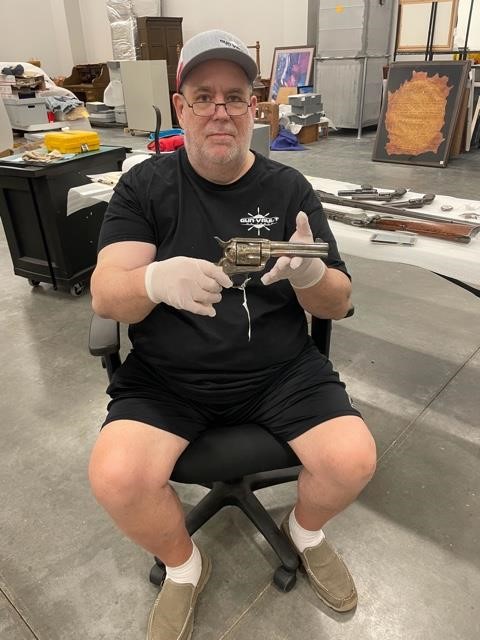 David Reiss - NRA Life Member & PSC Range Member Retired Police Firearms Instructor/Armorer
-Services: Wars Fought, Uprisings Quelled, Bars Emptied, Revolutions Started, Tigers Tamed, Assassinations Plotted, Women Seduced, Governments Run, Gun Appraisals, Lost Treasure Found.
- Also deal in: Land, Banjos, Nails, Firearms, Manure, Fly Swatters, Used Cars, Whisky, Racing Forms, Rare Antiquities, Lead, Used Keyboard Keys, Good Dogs, Pith Helmets & Zulu Headdresses. .