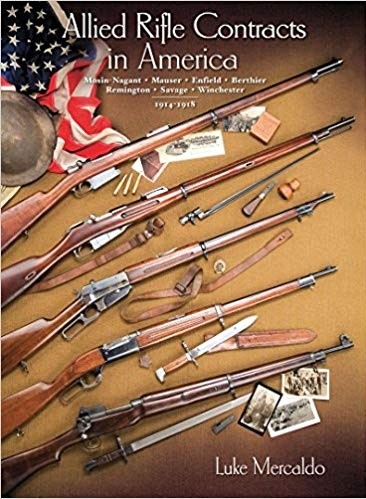 Allied Rifle Contracts in America - Mosin-Nagant, Mauser, Enfield, Berthier, Remington, Savage, Winchester 1914-1918. by Mercaldo, Luke; Fire Stone, Adam & Vanderlinden, Anthony.

This is a high quality book that covers not only the contract rifles, but many of their accessories all in this one volume. The use of source documents and ads of the day greatly enhances its effectiveness. History of the times only serves to make this book and interesting read. Top quality photos make this reference a must have for anyone wanting to gain knowledge about these collectible rifles.
David Reiss - NRA Life Member & PSC Range Member Retired Police Firearms Instructor/Armorer
-Services: Wars Fought, Uprisings Quelled, Bars Emptied, Revolutions Started, Tigers Tamed, Assassinations Plotted, Women Seduced, Governments Run, Gun Appraisals, Lost Treasure Found.
- Also deal in: Land, Banjos, Nails, Firearms, Manure, Fly Swatters, Used Cars, Whisky, Racing Forms, Rare Antiquities, Lead, Used Keyboard Keys, Good Dogs, Pith Helmets & Zulu Headdresses. .