After deciding to try cast bullets in my .218 B Contender pistol I ordered a lee 225-55 mold. But when It came, I soon discovered that the nose of that bullet was so oversize that unless the casting was shoved down into the case neck, it would not work and was basically unusable. A call to Lee was no help.
I then got an RCBS 225-55-SP from Midway that did drop a bullet with a nose that would work but could have been better.
Enter the NOE nose sizing kit and bushings. When nose sizing the .30 and 7mm cal's , I could feel when the bottom of the bushing hit the front driving band of the bullets so that's what I use as a stop.
Not so much with the very faint front driving band on the Lee and RCBS. But more pronounced with the Lee bullet. The result was that more often that not, that faint front driving band was mashed into the grease groove during my nose sizing attempt. At the very least, the nose sizing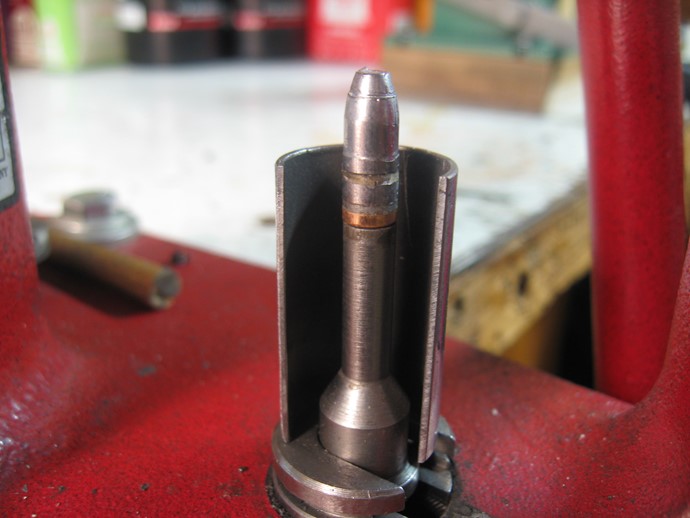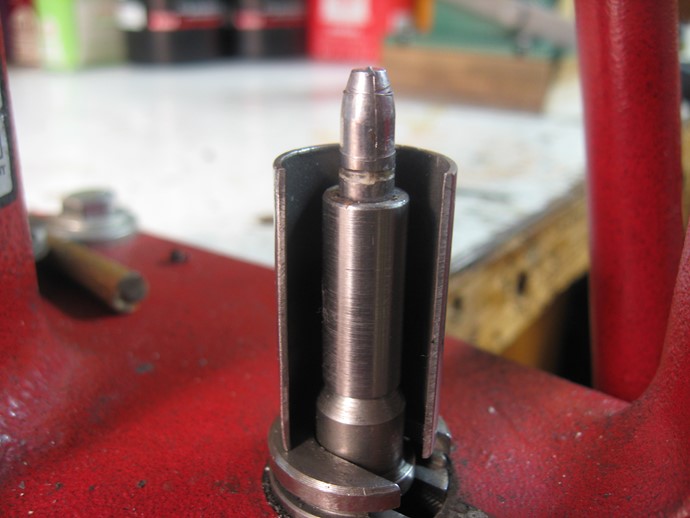 was extremely inconsistent.
So I made a simple positive stop sleeve from an expended CO-2 cylinder. It stops the press ram when the front of the front driving band is just about to enter the bottom of the nose sizing die at exactly the same point every time. And made that Lee mold usable. Now the front driving band can meet the beginning of the leade in that 218 B Contender barrel.