Although this was not the first match my son Thomas (junior member) and I shot in this year this one I have pictures from. The weather forecast for Spokane that day was rain and strong gusty winds. Lucky for us the weather man missed the mark and we had rain showers but nearly no wind. However that didn't seem to help much as most shooters were not shooting to potential. At Spokane Rifle Club (SRC) we only shoot at 100 yards. This year the course fo fire is 5 shot groups, 10 shot groups and then a score match. At the same time is a military rifle match, this time there was only one competitor for military. 7 shooters participated.I think it is fair to say a good time was had by all.
This match was special with the 3rd generation of Stripes' would shoot at SRC, my Dad's home range. Don Barron thought that was pretty cool. He said that on the same day he received the latest issue of The Fouling Shot he was reading an article written by my Dad in an old issue. He then opened the new issue and saw an article written by me.
As the match progressed the weather kept changing from not raining to rain to downpour to drizzle. It seemed to be having an effect on all shooters and our groups and scores. I had an unusual number of fliers although I'm not going to blame the rain. Too many other factors at play to reach a conclusion on the cause. I am baffled though by fliers that fall below the aimpoint by a couple of inches. I'm just not sure how that can happen with a well supported rifle.
Rich McClure and Ray Schueler took best score and group of the day but I do not recall who shot which. Production class and Hunter class were both well represented. Military and Heavy each just one shooter.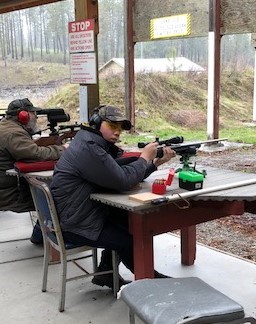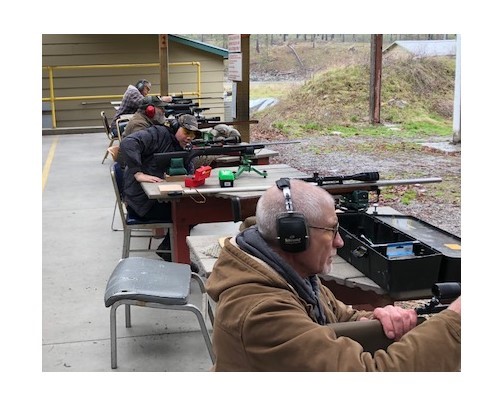 Second picture shows part of the firing line missing one shooter, not including Ray or myself.