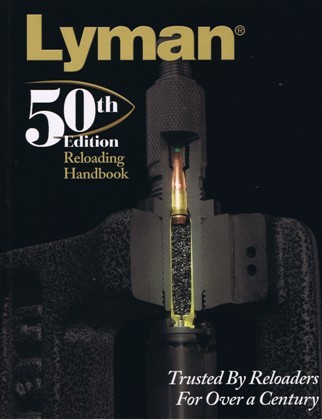 Lyman 50th Edition Reloading Handbook
Just to set the stage, I have nine lineal feet of book shelves devoted to reloading material. It starts from the 1890's and ends with the Lyman 50th. Everyone should have a copy of this edition for several reasons. First is expanded data to cover the cartridges from the last ten years. Yes, I know some of the older ones, our old favorites were dropped, but they were not going to shoot new data for them anyway. Second is that they used currently available powders plus their older data, powders that are no longer made, or will be dropped within a few years. The powder industry for reloaders is changing at a rapid pace, old style powders are falling by the wayside. The problem with the internet is that as soon as a powder is not longer made, the maker rips it from their website never to be seen again. The data just disappears. If it isn't on paper and you can hold it in your hands, it is just electrons on the ether-net. At last they have arranged the calibers into a logical sequence, at least to me, after 50 years of flipping back and forth trying to find the right cartridge. Why have 38 S&W after 357 Magnum (?) at least since 1960 and the 42nd edition.
The basics of handloading is pretty much the standard, still clinging to "batch reloading" with two loading blocks. The only two rifles I have seen destroyed were with reloaders who used two blocks; empty cases neck up in one and powdered cases neck up in a second. Both times the reloader swore they looked in every case, but had a case with no powder; primer fired a bullet into the bore, and then fired a full load into the bore obstruction. The safe method is cases neck down in a loading block; add powder, looking into the case, seat bullet. Cartridge then goes into storage box. Other than that, it is nit picking, but generally great for the newbie.
I found the "specialty" articles very well done, especially the history of the Handbooks, plus, unlike the 4th edition of the Cast Bullet Handbook, not all by one "writer from Montana". The metallurgy article alone was worth the price of the handbook. The Contender section was included which was good, as they tend to have cast bullet loads that work very well in rifles also. As cast bullet shooters, we wish they had used other brands of bullets, like Redding and RCBS, the same as done in Cast Bullet Handbook 4th edition, but you can always pick up a copy of it also. We understand that there are only so many pages you can print. I also noted that the Cast Bullet Association is listed second as an organization of interest, ahead of the NRA. (Maybe because "C" comes before "N"?)
One other tidbit is that if you can, buy a "hardbound" copy. While not really a bound book, it at least is like a children's book from grade school. That copy will last twice as long as the paper bound version. I know, as I have bought several copies of my favorite editions of the Lyman Handbooks. They just seem to wear out after ten or twenty years.
Congratulations to Tom Griffin and the crew for making a very worthwhile addition to every reloader's bookshelf.