Loading bench challenge
667 Views
Last Post 10 July 2020
Anyone else have this problem?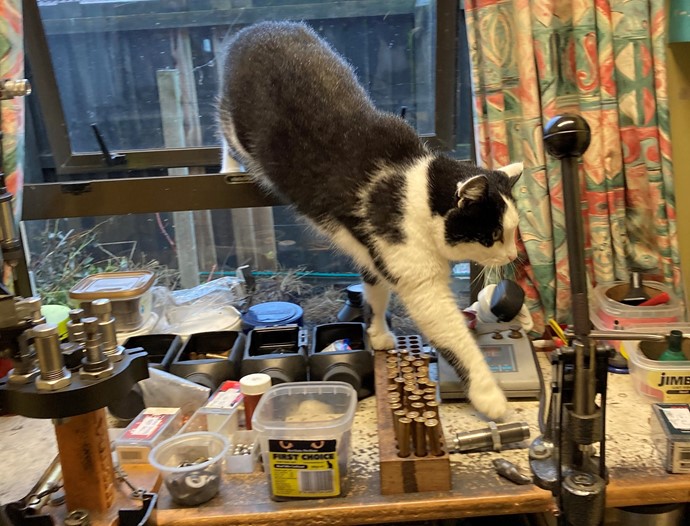 cove
posted this 10 July 2020
Jeff: Yes, there are others that have similar problems. I also have a photo of "Smitty" helping me with my stamps.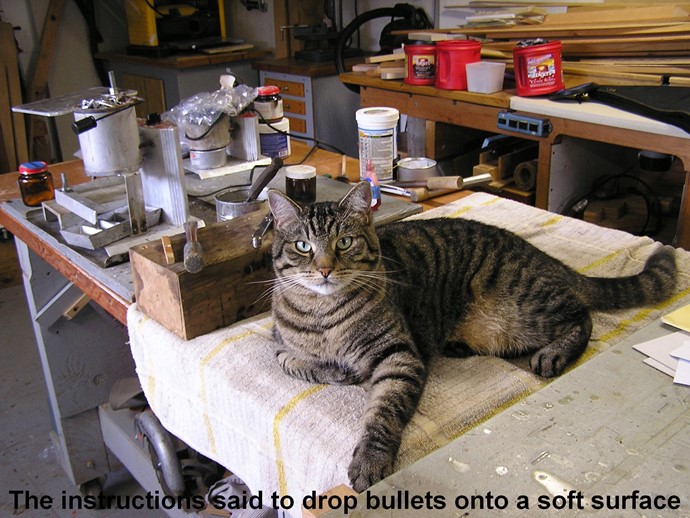 Had one jump on the bench when casting bullets once. got lucky it just stepped on some bullets that had cooled down to the point that it just got a free education.
if you think you have it figured out then you just dont understand
Yep. When dude gets into the loading room and wants attention.
Gotta watch him or he will jump upon the bench.
Do not feel alone. Regardless how much space you have, you will need more. I moved from a 7" X 14' to a 10' X 16' shed and still have too much clutter.
The best move was putting magnetic strips along the wall where all tools were hung in plain view. This means casting tools behind the pots, reloading tools behind the presses, sizing dies in one drawers organizer behind the sizers, etc. the shed walls look strange, but the approach is effective.
Farm boy from Illinois, living in the magical Pacific Northwest
barra
posted this 29 June 2020
No but I have that much clutter and junk on my bench I have to reload with a Lee classic loader on a besser brick or 310 tool away from the mess.
It all was moved for a new acquisition to the shed and then everyone else came to help me and moved more things randomly around the shed to clear more space.
For the life of me can't find anything as I have no clue where anything is.
Your cat seems to be a roll in the park.
sigh
I'm a dog person, too. But my teenage daughter had a cat here in the 1980's. Cat was always bringing dead mice and birds into her room.
I too had been a dog person up to 2015. Since then we have acquired 5 cats. One is a real thief and likes to collect all types of things and hide them under the bed. She most likes rubber bands and my wife's jewelry.
Them also want to sleep near me all the time, so any small place on my reloading bench is fair game. One really likes to help me set bullets into the cases before seating. It's a battle to get them all ready before she knocks them all out. But one rolling around on the bench is sometimes enough enjoyment to keep her busy while finish.
David Reiss - NRA Life Member & PSC Range Member Retired Police Firearms Instructor/Armorer
-Services: Wars Fought, Uprisings Quelled, Bars Emptied, Revolutions Started, Tigers Tamed, Assassinations Plotted, Women Seduced, Governments Run, Gun Appraisals, Lost Treasure Found.
- Also deal in: Land, Banjos, Nails, Firearms, Manure, Fly Swatters, Used Cars, Whisky, Racing Forms, Rare Antiquities, Lead, Used Keyboard Keys, Good Dogs, Pith Helmets & Zulu Headdresses. .
ray h
posted this 29 June 2020
Ric I don't know, I'm new to cats, always was a dog person.
ray h
posted this 28 June 2020
Jeff I have one that like's to take something off the bench, that he can get into his mouth, and leave it outside my bed room door during the middle of the night.
Search
This Weeks High Earners