Heavy Loads For The 44-40 M92 Winchester
Heavy Loads For The 44-40 M92 Winchester
411 Views
Last Post 23 October 2020
From Shooting Times, Feb 1973
by C. George Charles
Read every single word!!!!!!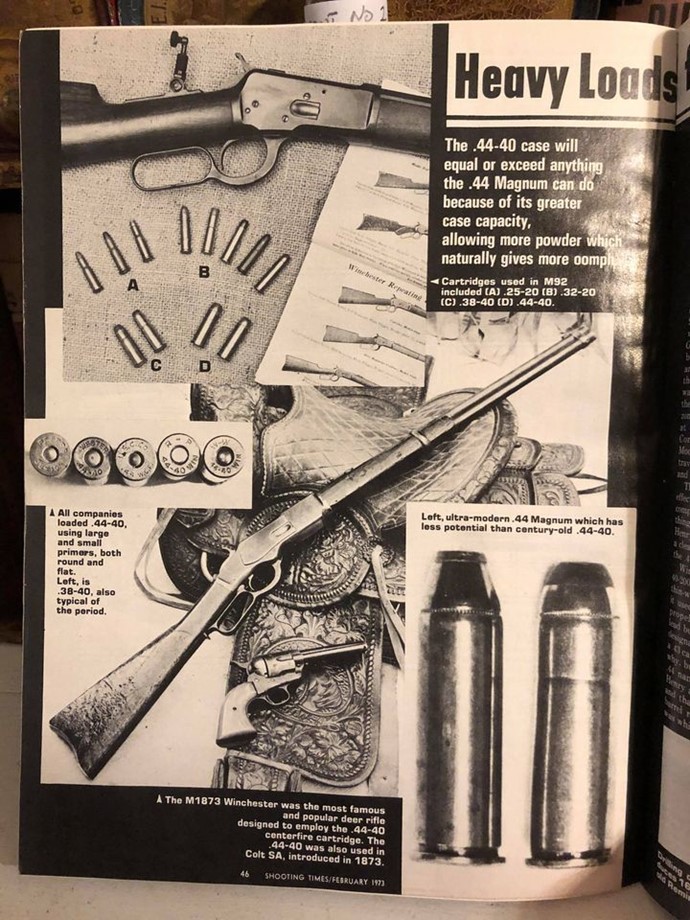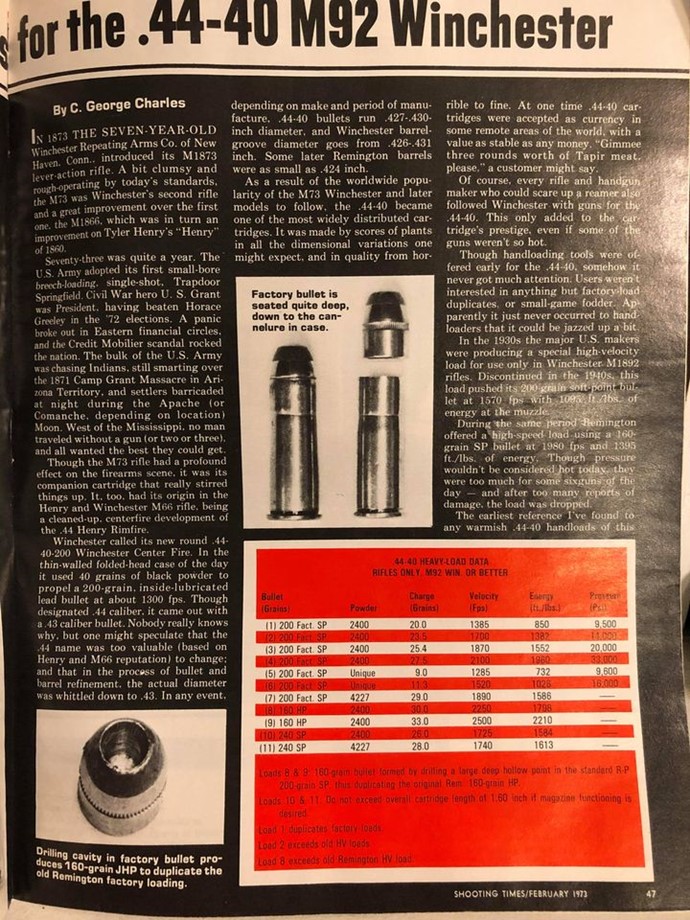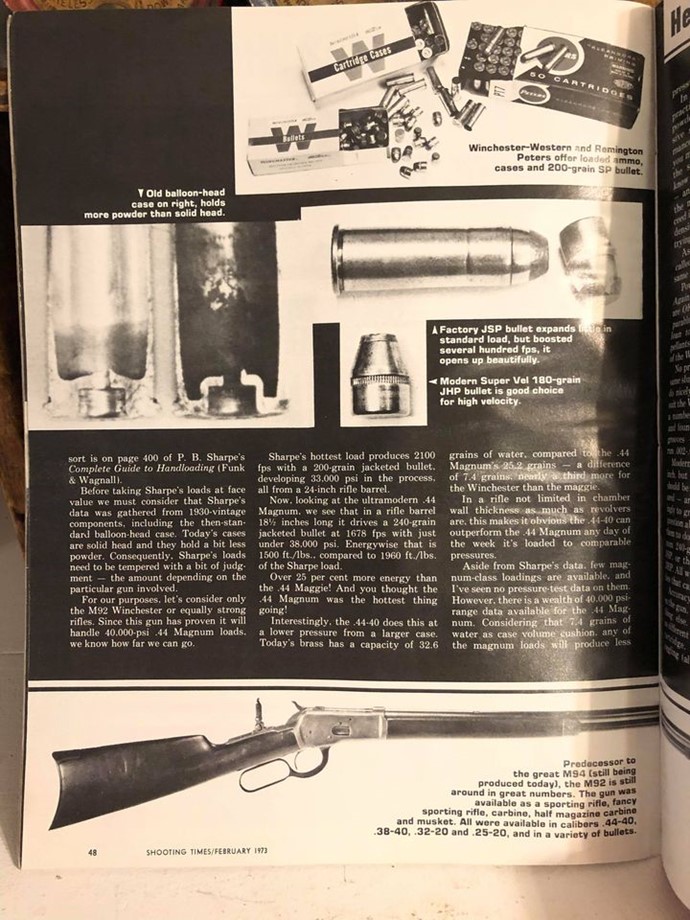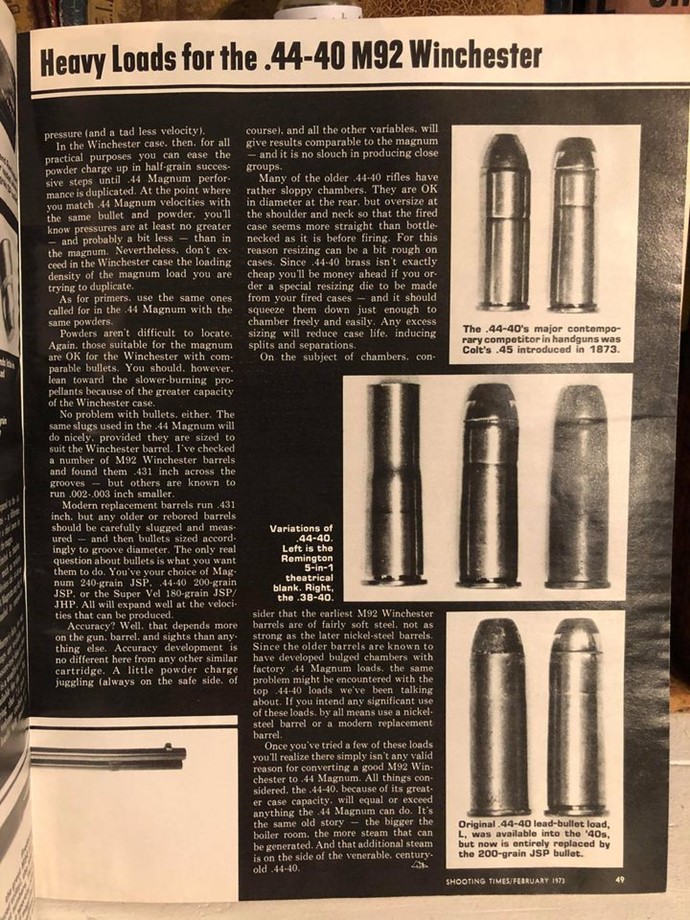 Hello SavvyJack,
Thanks for the time and effort to post your Winchester 92 article. I enjoyed it. I have a 92 converted to .357 and one converted to .44 Mag.( re-barreled of course) Keep up the good work please.
Mashburn
Wow,
From back in the Day when Shooting Times was worth reading.
Long time Caster/Reloader, Getting back into it after almost 10yrs. Life Member NRA 40+yrs, Life S.A.S.S. #375. Does this mean a description of me as a fumble-fingered knuckle-draggin' baboon. I also drool in my sleep. I firmly believe that true happiness is a warm gun. Did I mention how much I HATE auto-correct on this blasted tablet.
Nice!!!

I have a box loaded for my Marlin 94 but that's all now.....I prefer the 1,350fps Reloder 7 loads. Them other ones hurt!!
Savvyjack thanks for posting the article, good read. The reference to Philip Sharpe's book reminded me to go look for my copy. I haven't looked at it in probably 40 years, kinda forgot it was on the shelf. Good reference for the 44-40 and quite a few other cartridges to use for reference with others like the older Lyman books and others.
Now I have to check my old Winchester 92 to see if it's nickel steel or not. Would have to keep loads well separated from loads for my Colt Lighting pump.
Intreasting thread, thanks.
John
Which one is the 44 Magnum case?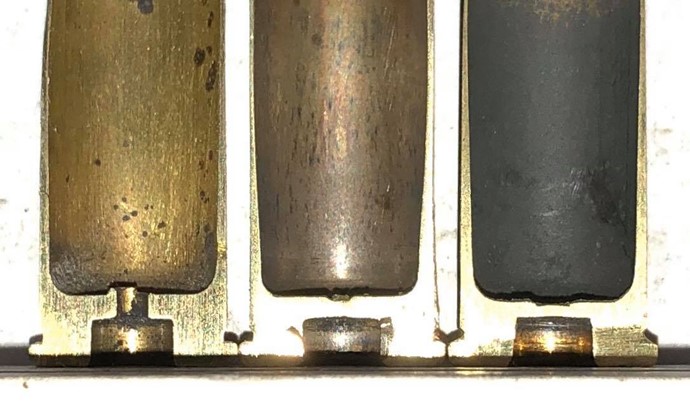 beltfed
posted this 17 October 2020
Savvyjack,
Very good at 200yds!!
beltfed/arnie
https://sites.google.com/view/44winc...y-at-200-yards

Did this 200 yard target this morning with normal Winchester 73' loads.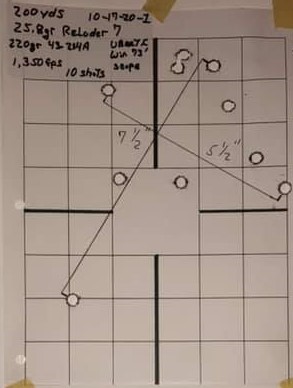 I have a 44 Mag resize die cut down to only resize the neck.
I got past the case head problem with such loads in my Chiappa Cimmaron M92 44-40 by simply NSing the fired cases by running the necks only up into a 44 SPL/Magnum carbide sizer. I only loaded such heavy 44 Magnum level loads for the knowledge as they seize up the action of my old model Vaquero due to set back of the tapered case in the chambers.
LMG
Concealment is not cover.........
beltfed
posted this 16 October 2020
SavvyJack,
I can relate also to the Modern production Marlin 1894 rifles.
A friend in our shooting group had a M1894, cal 44 Mag. We learned
to Not bother to pick up his spent brass as they were stretched and
would end up with head separations.
Oh, BTW, you can check your brass for incipient separation near the case head by "hooking" them
with a paper clip opened up and with a small bend/hook on the end.
beltfed/arnie
I do know Winchester advised not to reload their HV factory, loads but that was pre- WWII using semi-balloonhead brass. I am not surprised similar issues may be encountered with WW brass. Using such loads in the Marlin 1894CB, I do get case stretch and have to trim after several fired re-loads, however, I am using the stronger Starline brass. I was able to purchase a batch that was 1.300" and they have stretched as much as 1.310" before I sized back to 1.300". There is certainly some thinning going on in there but I have yet to cut one open to check. Fired HV loads from the Marlin will not chamber in my revolversor my Marlin 1889, so the chamber is a tad oversized at the base.

No issues yet with separations but I am keeping an eye on it. It did catch my attention when he mentions getting customs die made for such chambers.

Many report scatter-gun results with such loads but I get excellent results at 265 yards with the 94CB with such loads.


beltfed
posted this 16 October 2020
Having been there, done that, I warn anyone going to the really hot loads
that you are risking case head separations with the relatively weak 44-40 brass..
Some M92s will have enough excess head space...
Including a really nice SRC I had back then which had a New Factory Win.Barrel on it.
But it had escess headspace. First loading in new WW brass looked OK, but then I got
head separations on second loading.
My Modest load of 22 gr 4227 and a 200 gr HP FPGC bullet. Clocked about
factory load velocity at 1350fps.
I killed my second last deer with that load in the 1st year production M92 I have now..
One shot thru heart one kill at 65 yds . The buck went about 70yards, and collapsed dead
beltfed/arnie