I finally got around to digging in some old items while surfing the net. I wanted to see what I could find for this Laflin & Rand powder from back in the day. I'm sure one of you guys can fill me in on details.
Would this be "Infallible" shotgun smokeless? Some information within shows that shooters were using Infallible in the 30-40 Krag. It was also mentioned that the charge had to be lowered due to a chemical issue or mixture. This is probably where Unique comes into play. Unique came from Infallible by 1900 so I am not sure which they are referring.
Anyhow...
October 24, 1901 "Infallible"?
The accompanying targets are represented full size. They were made at a distance of 20 yards. One shows 6 shots. the other 60 shots. The shooting was with a load of Laflin & Rand shotgun smokeless powder, 6 grains by weight, not by measure, and a hard round bullet seated in a grooved shell , U. M. C. make. The shooting was done by C. F. G. Arm strong with a .44 caliber revolver. Mr. Armstrong writes : " I do not send these as showing high scores, but more to illustrate the value of the charge, thinking it may help someone else who is looking for a smokeless powder charge for revolvers." Mr. Arm strong says he had no unaccountable shots when experimenting with this charge

Sixty consecutive shots at 20 yards - every shot fired Oct. 19— by C. F. G. Armstrong, with a .44 caliber revolver, 6 grains weight of Laflin & Rand Shotgun Smokeless powder and 1 to 14 round bullet. Reproduced exact size.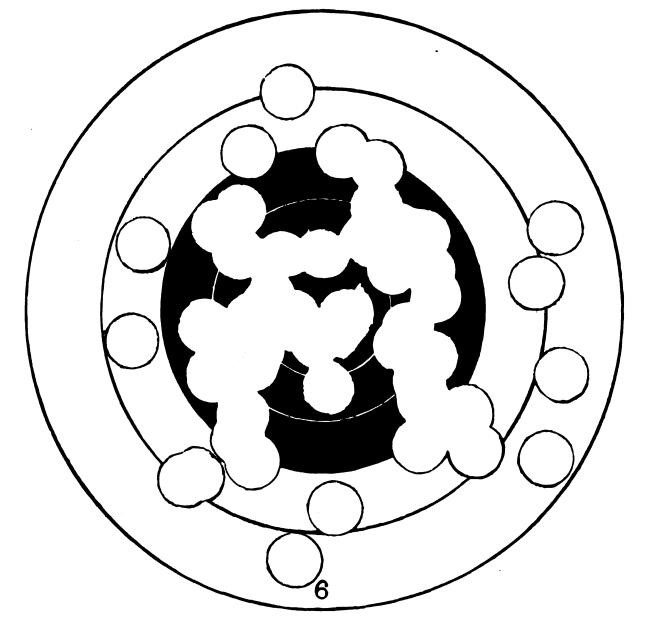 Six shots at 20 yards, Oct. 14, hy C.F. G. Armstrong, with a .44 caliber revolver, 6 grains weight of Laflin & Rand Shotgun Smokeless powder and 1 to 14 round bullet lubricated with japan wax and vaseline. Reproduced exact size.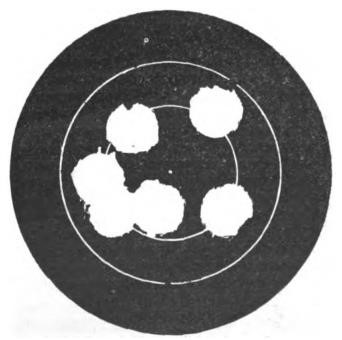 November 28, 1901 "Bullseye"
I assume this to be the Blue Cans. Apparently the Red cans were discontinued and the powder re-introduced the same year. Some red label cans have a data overlay so I assume in the blue cans but the dates are still a bit confusing.
The Laflin & Rand Powder Company has just perfected a new powder which will shortly be placed on the market, and which will be known as the Laflin & Rand Bullseye Smokeless powder. It is black in color, and intended for revolver shooting. Tests of this powder show it has remarkable cleanliness and gives very accurate results. The powder is of the dense class . It gives very fine results in the .44 [I assume 44 Colt] and .38 caliber revolvers, and works well in the Colt automatic, the Mauser and the Luger pistols . On Saturday last a trial of this powder was made at Greenville, and Dr. R. H. Sayre was given twelve cartridges, two of which he used for sighting shots . The remaining ten he fired a score in the club con test . The shooting was at 50 yards on the Standard target, and his score was 96 out of a possible 100, the highest 10 - shot score he has ever fired at that range. Inspector Ed. Taylor is confident that this powder will give universal satisfaction to revolver shooters.
Feb 6, 1902 "Bullseye", and I think a 44 S&W or 44 Colt?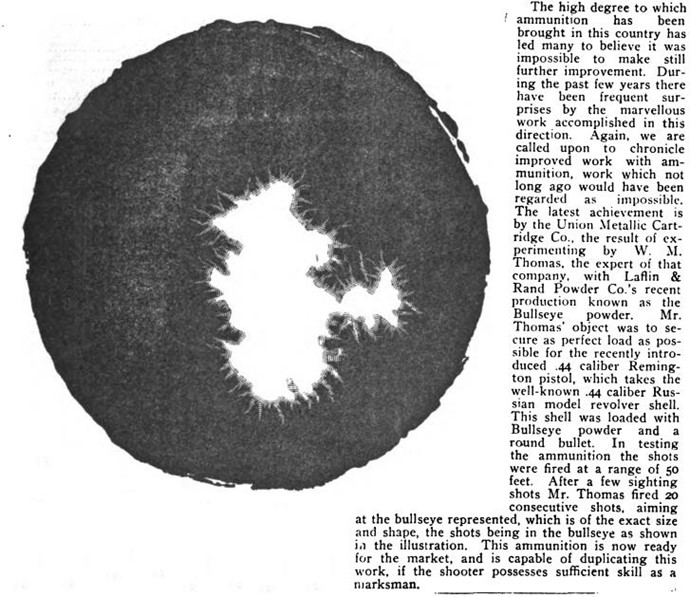 April 10, 1902...no further mention of Bullseye powder to this date.