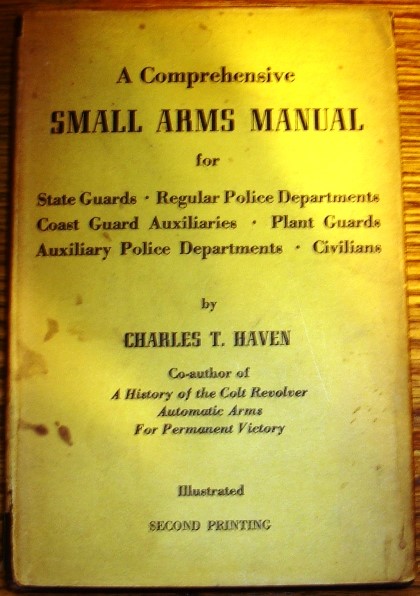 Charles Haven wrote this interesting little book in early 1942. It is about a long forgotten part of WWII, those left in the US to guard against saboteurs, spies and union strikers. The Federal government recalled every useful weapon from the National Guard units to arm the new Army. Away went their 1903 Springfields, Thompson sub-machine guns and Model 1911 .45's. Mortars, machine guns, hand grenades and everything else disappeared up the pipeline to the Federal government. And so did most of the trained and fit men, disappearing up the pipeline to the military.
What were left to protect the physical assets of the country were the State Guards, Home Guards and Auxiliaries. Organized from scratch they guarded the dams on the west, patrolled the beaches of the coasts, and trained to put down civil disobedience. They got the bottom of the barrel of weapons from the military and supplemented with commercial arms. Members of the community lent their hunting rifles and handguns to these units for the duration of the war. Their training was from veterans of WWI and retired law enforcement officers. And they did this for free to help the war effort after working ten and twelve hour days at factories and business.
What Haven does is prioritize what were the best and most useful weapons to arm these guards. How does the Krag compare to Model 94 Winchester? Which is most useful? How do you clean and maintain a Reising Gun (which were available by the thousands) when there is no literature to refer to? What is the best type of ammunition? Using shotguns for offense and defense?
If you were setting up a defense force, this is the type of material needed. Practical experience about using what is available. The book has great illustrations and the text is plainly written in the 1930's style so that it is easy to understand exactly what the author means.