I recently enlarged the heel of my 310 bullet mould so they could fit in my guns fired shells for finger seating.
I was getting what appeared to be two seperate groups if I fired enough rounds or so it appeared.
Now I had been blaming the white and red boxed Remington SRP I got given like a two thousand primers .God knows how old or stored.
I bought some new WW srp on special when the covid started before the price hike over here and things went bonkers.And now are using them.
So I thought I'd sort and shoot each cavity.
I found one was a bit bigger size but found a sliver of lead in the mould front halves so it should be good next batch..Dohh!
I shot from a clean bore 10shots each of a good load that may need a light tweaking.
all were loaded as cast , finger seated and finger lubed the outside after with 50/50 be/vas
Over 2.0 grns bulleye and a pea of Dacron.900 fps???
'now these groups at 50 yards don't look too good.
peep back sight and a post.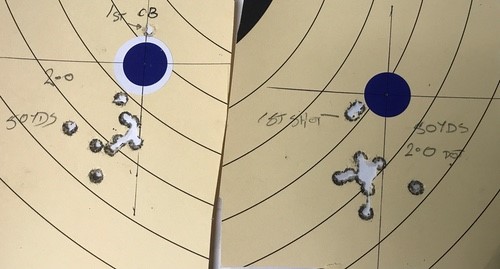 But when you overlap them and put a dollar coin on them they aren't too bad.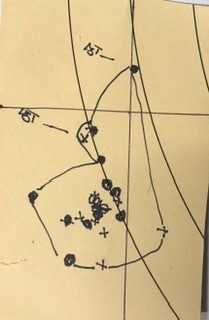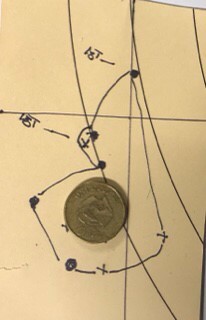 I could say the 3 high holes are from fouling to condition the bore.
'But the 5 other outliner holes at double the sized the others have me worried.
'Should I try another type of aim point.
Or is it something else.
Those little sticker dots seem quite fuzzy and small.
I have a lettuce protector load of about 750 fps with 1.8 grns bulleye that you can hear the bullet whizzing down range that seems quieter than a 22lr.
'But that's another story.
'Any thoughts from the guru's on this stuff.
thnx
Bruce