While trying to find out if jacketed bullets shoot more accurately/easier than cast bullets, at cast bullet velocities, I reduced powder charges and velocities until either the bullets shot wildly or a bullet stuck in the barrel.
Sometimes tipping bullets are accurate, sometimes bullets shoot wildly without tipping, and sometimes bullets shoot sideways but form reasonable groups.
All records are about 5-shot, 100 yard groups.
Here's an example:

It is clear that something happens as the powder charge is reduced below 6 grains of Titegroup, MV falls below 1628 fps. The wild shooting is below 4.5 grains of Titegroup/1188 fps MV.I can think of three possible causes for group sizes getting larger:
The bullet becomes unstable, or
Very low charges ignite/burn erratically, causing large velocity swings, or
Velocity approaches/crosses the speed of sound, causing ???
The summary of testing to date:
Then, at 200 meters: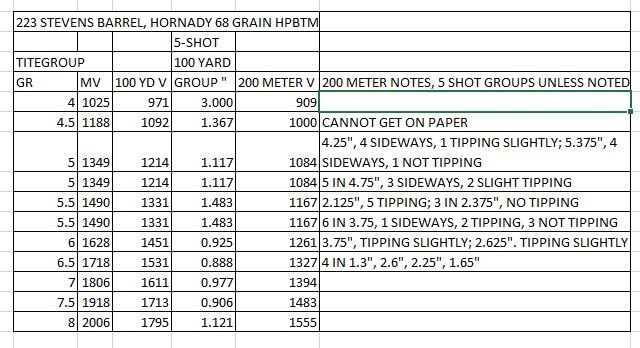 MV is measured, 100 yard v and 200 meter v are calculated, using the bullet manufacturers BC values. These bullet started going wild at 200 meter v < 1261 fps and 6 grains of Titegroup, but were not shooting wildly as 100 yards.
This suggests that the wild shooting is NOT caused by "very low charges igniting/burning erratically causing large velocity swings".
Either bullet instability, or bullets slowing to the speed of sound cause wild inaccuracy.
This testing also suggests that bullet performance at any range is modeled by shooting at short range (100 yards) at the long range velocity. Group size at 1000 yards varies as group size at 100 yards at 1000 yard velocities varies.